A Long Term Care Policy assures proper care and protects your assets.
Long-Term Care Planning
Long-term care needs to be a part of your retirement planning.  For almost all Americans, except the very wealthy or poor, long-term care insurance is vital for protecting one's estate, lifestyle, and peace of mind.  This section will help you better understand what long-term care entails, whether you're likely to need it, what it may cost, and how you can ensure that you're prepared for the eventuality that you'll require some form of long-term care.
Americans are living longer today than in the past with multiple, chronic health conditions and greater rates of disability in old age.  Increasingly, they are living in the community, not in institutions.  The proportion of adult children providing personal care and/or financial assistance to a parent has more than tripled over the past 15 years.  Currently, a quarter of adult children, mainly Baby Boomers, provide these types of care to a parent.  Family support is a key driver in remaining in one's home and in the community, but it is not without substantial costs to the caregivers themselves, to their families, and to society.
What is Long-Term Care?
Long-term care (LTC) is a range of services and supports you may need to meet your health or personal needs over a long period of time.  You need long-term care when you are not able to complete personal care or other daily activities on your own.  This is most often the result of a chronic illness or disability.  In some cases, the illness or disability may include memory loss, confusion, or disorientation resulting from conditions such as Alzheimer's disease.
Will You Need Long-Term Care?
This year, about nine million men and women over the age of 65 will require some type of long-term care services during their lifetime, and this is forecasted to increase to 12 million by 2020.  Most (70%) will be cared for at home by family and friends, but according to a study by the U.S. Department of Health and Human Services, 40 percent of the people who reach age 65 will need nursing home care.
Things that increase your risk or make it more likely that you'll need long-term care include:
Age:  The older you get, the more likely it is that you'll need help.
Living alone:  If you live alone, you're more likely to need paid care than if you're living with a partner.
Gender:  Women are more likely to need long-term care than men, primarily because women tend to live longer.
Lifestyle:  Poor diet and exercise habits increase the chance that you'll need long-term care.
Personal history:  Health and family history can increase the chances you'll need long-term care.
Long-Term Care Demographics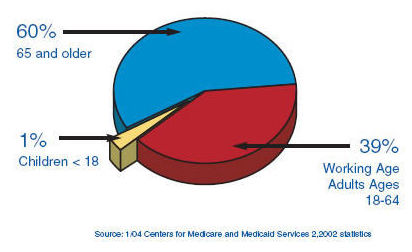 How Much Will You Need
Service and support needs vary from person to person and often change over time.
On average, someone who is 65 today will need some type of long-term care services and support for three years.
Women need care longer (on average 3.7 years) than men (on average 2.2 years).
While about one-third of today's 65-year-olds may never need long-term care services and support, 20 percent will need care for longer than 5 years.  About 10 percent of the people who enter a nursing home will stay there 5 years or more.
The following table shows that more people use long-term care services at home, and use it for a longer period of time, than in facilities:
Type of Care

Ave. # of yrs. Care is Used

% of People who use this Care

Any Services
3 Years
69%
At Home
    Unpaid Care Only
1 Year
59%
    Paid Care
Less than 1 Year
42%
    Any Care at Home
2 Years
65%
In Facilities
    Nursing Facilities
1 Year
35%
    Assisted Living
Less than 1 Year
13%
    Any Care in Facilities
1 Year
37%
Service Delivery
Long-term care can be provided at home, in the community, or in long-term care facilities.  Most people can live at home for many years with help from family and friends, and from other paid community support.
The long-term care services and support you receive may include one or more of the following:
Unpaid Caregiver:  Assistance with personal care or other activities from an unpaid caregiver, who may be a family member, partner, friend, or neighbor who helps care for you while you live at home.  About 80 percent of care at home is provided by unpaid caregivers.  Caregivers provide an array of emotional, financial, nursing, social, and homemaking services.
Other Home Services:  Services in your home from a nurse, home health or home care aide, therapist, homemaker, etc.  Included are meals programs (e.g., Meals on Wheels), chore services (e.g., washing floors or shoveling snow), visitor/companion services, emergency response services, etc.
Community Services:  Services in the community such as adult day services, transportation services, and senior centers.  Often these services supplement the care you receive at home or provide time off for your family caregivers.
Facilities:  Care in any of a variety of long-term care facilities (see below).
Facility-Based Services
The types of services provided by long-term care facilities vary by type of facility.  All facilities provide housing and related housekeeping services.  Some also provide help with managing medications, assistance with personal care, supervision, special programs for people with Alzheimer's Disease, or 24-hour nursing care.  Typically, the state in which the facility is located regulates which services are offered.
Facility-based service providers include the following:
Adult foster care:  These programs match people who cannot live safely on their own with a foster family that provides room and board 24 hours a day and helps with personal care activities like bathing, eating, and medication.
Board and care homes:  There are two main types of board and care homes – residential care facilities, which usually have 20 or fewer residents and group homes that have 6 or fewer residents.  Both types of facilities provide meals, personal care, and a 24-hour staff.
Assisted living:  Like board and care homes, assisted living is designed for people who want to live in a community setting but need help with personal care, other daily activities, or supervision, but who do not need as much care as provided by a nursing home.
Continuing care retirement communities (CCRCs):  CCRCs offer several levels of care in one location.  They offer a mix of independent housing (for people who need little or no care), assisted living, and nursing facilities (for those who need more care and supervision).
Nursing homes:  Nursing homes, also called skilled nursing facilities (SNFs), provide a range of services, including nursing care, 24-hour supervision, and assistance with daily living activities.  They also offer rehabilitation services such as physical, occupational, and speech therapy.
Long-Term Care Costs
Home health and home care providers deliver services in two- to four-hour blocks of time called "visits."  An evening, weekend, or holiday visit may cost more than a weekday visit.  Some community programs, such as adult day service programs, are provided at a per-day rate, and rates may differ based on the type and variety of programs and services offered.
The cost of long-term care can vary quite a bit depending on what kind of care you need, where you get the care, and where you live.  For example, many facilities charge extra for services beyond the basic room-and-board charge, while some have all-inclusive fees.  The chart below shows how these costs generally compare with each other.
| | | | | |
| --- | --- | --- | --- | --- |
| | Help with activities of daily living | Help with additional services | Help with care needs | Range of costs |
| Community-Based Services | Yes | Yes | No | Low to medium |
| Home Health Care | Yes | Yes | Yes | Low to high |
| In-Law Apartments | Yes | Yes | Yes | Low to high |
| Housing for Aging and Disabled Individuals | Yes | Yes | No | Low to high |
| Board and Care Homes | Yes | Yes | Yes | Low to high |
| Assisted Living | Yes | Yes | Yes | Medium to high |
| Continuing Care Retirement Communities | Yes | Yes | Yes | High |
| Nursing Homes | Yes | Yes | Yes | High |
Medicare and Long-Term Care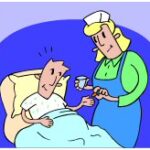 Consumer surveys reveal common misunderstandings about which public programs pay for long-term care services.  Many people believe they can rely on Medicare to pay for their long-term care.  In general this is not the case.  Medicare pays only for short periods of medically necessary skilled nursing facility or rehabilitative home health care.  However, you must meet certain conditions for Medicare to pay for these types of care.  Medicare doesn't pay for "custodial care" which is care that helps you with activities of daily living, and this makes up the majority of long-term care services.
Some Medicare Advantage Plans may offer limited skilled nursing facility and home care (skilled care) coverage if the care is medically necessary although you may have to pay some of the costs.  For any and all long-term care services that are not covered by public or private insurance programs, you will have to pay, using whatever assets you may have.
Medicaid and Long-Term Care?
Medicaid is a joint federal and state government program that pays for certain home and community health services and nursing home care for older people with low incomes and limited assets who meet minimum state eligibility requirements.  Such requirements are based on the amount of assistance needed with activities of daily living.  Other federal programs such as the Older Americans Act and the Department of Veterans Affairs pay for long-term care services, but only for specific populations and in certain circumstances.
Other Long-Term Care Funding
Most employer-sponsored or private health insurance, including health insurance plans, cover only the same kinds of limited services as Medicare.  If they do cover long-term care, it is typically only for skilled, short-term, medically necessary care.
There is an increasing number of private payment options that can help you pay for long-term care services.  These include long-term care insurance, reverse mortgages, life insurance options, and annuities.  It is important that you understand the differences among the public programs and private financing options for long-term care services.  Each public program and each private financing source has its own rules for the services it covers, and its own eligibility requirements, copayments, and premiums.
Long-term care insurance (LTC or LTCI) helps provide for the cost of long-term care beyond a predetermined period.  It covers care generally not covered by health insurance, Medicare, or Medicaid.  Covered care includes home care, assisted living, adult daycare, respite care, hospice care, nursing home and Alzheimer's facilities.  If home care coverage is purchased, long-term care insurance can pay for home care, often from the first day it is needed.  It will pay for a visiting or live-in caregiver, companion, housekeeper, therapist or private duty nurse up to seven days a week, 24 hours a day (up to the policy benefit maximum).
Other benefits of long-term care insurance:
Many individuals may feel uncomfortable relying on their children or family members for support, and find that long-term care insurance could help cover out-of-pocket expenses.

Without long-term care insurance, the cost of providing these services may quickly deplete the savings of the individual and/or their family.  This could leave the individual without any inheritable assets and make them solely dependent on government aid (i.e., Medicaid).

Premiums paid on a long-term care insurance product may be eligible for an income tax deduction.  The amount of the deduction depends on the age of the covered person.  Benefits paid from a long-term care contract are generally excluded from income.
Who Pays for Long-Term Care?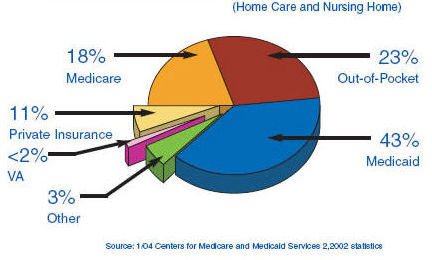 Private long-term care (LTC) insurance is growing in popularity in the United States.  Premiums, however, have risen dramatically in recent years even for existing policy holders.  Coverage costs can be expensive, especially when consumers wait until retirement age to purchase long-term care coverage.  This is why it pays to initiate a long-term care policy early in your pre-retirement period.
Long-Term Care Insurance Coverage
Following is a sample list of possible benefit options (coverage) within a typical long-term care insurance policy:
Number of days (years) of nursing home care provided
Number of days (years) of home care provided
Nursing home facility daily benefit dollar amount
Percent of daily nursing home benefit amount available for home care
Lifetime Elimination Period – number of days that you will be required to pay until the policy benefits kick in
Inflation protection (e.g., 5% compounded)
The insurance coverage together with your age, health, sex and your location (state) determine your premium.
Partnership Programs
State long-term care partnership programs combine long-term care insurance and Medicaid Extended Coverage.  Their purpose is to help individuals financially prepare for the possibility of needing nursing home care, home care or assisted living services someday.  The programs allow for the protection of some or all of your assets (resources), depending on the insurance plan purchased, if your long-term care needs extend beyond the period covered by your private insurance policy.  If you buy partnership long-term care insurance from a participating insurer, use the benefits according to the conditions of the program, and you are a resident of the state, the programs allows you to apply for Medicaid Extended Coverage.
Forty US states are now participating in reciprocity as offered in the Federal Deficit Reduction Act of 2005.  This allows policyholders in a participating state who relocate to one of the forty other participating states to take advantage of asset protection in those states at a dollar-for-dollar level based on the amount of LTC insurance benefits paid on their behalf.  Check to see whether your state provides this additional protection.
Summary
As stated earlier, for almost all Americans, except the very wealthy or poor, long term care insurance is vital for protecting one's estate, lifestyle, and peace of mind.  Remember that if you need long-term care someday you only have two options:
Pay the full cost yourself, which could ultimately drain all of your assets and cause you to be dependent on Medicaid, or
Purchase a long-term care insurance policy which could cover, together with a state partnership program, all or most of your possible long-term care costs.
Long-term care is expensive.  In 2020 one year of care at home, consisting of a total of 44 hours per week from a home health aide, cost over $51,000, and the average cost for one year of nursing home care was over $90,000 for a semi-private room.  As mentioned above, where you live plays an important role in determining how much you'll pay.  At the bottom of this page is an example of average NY State costs from ACACIA Insurance Services. Figures for you state can be found at the government's Long Term Care Information Site:
Long Term Costs Example:
New York State Long Term Care Costs – 2020 (Annual)
Region
Nursing Home (private room)
Nursing Home (semi-private room)
Assisted Living (private room)
Home Health Aide (44 hours/wk)
New York State Median
$155,125
$147,825
$57,600
$59,488
Albany Area
$162,608
$155,673
$57,600
$62,348
Binghamton
$140,832
$138,510
$61,158
$59,213
Buffalo Area
$158,775
$152,030
$54,780
$59,488
Elmira
$148,738
$141,438
$67,488
$58,069
Glens Falls
$173,375
$168,813
$50,820
$62,920
Ithaca
$124,429
$118,954
$162,000
$67,496
Kingston
$179,580
$177,558
n/a
$52,624
New York City Area
$155,125
$141,255
$71,886
$59,488
Rochester
$161,695
$148,555
$62,157
$62,920
Syracuse
$161,250
$154,676
$56,430
$64,064
Utica Area
$120,450
$114,975
$58,860
$59,488
Watertown Area
$146,000
$139,065
$72,402
$59,213