Being able to live wherever you want to live can be troublesome.
Problem/Opportunity Defined
In retirement you are no longer tethered to the community where you work or where your children can attend the best schools.  You are now free to live wherever you want to live and take advantage of the special needs and opportunities of retirement.  These typically include recreation, entertainment, social relationships, reasonable living costs, good health care, etc.
This situation has its advantages and disadvantages.  If you are not limited by family proximity or health care, you are faced with a plethora of limitless options that can be daunting at best and oftentimes nerve-wracking and stressful.  Previously, you may have moved to where the jobs were and accepted the obligation to fit into new communities close to the employer's location.  Perhaps you stayed in the area or community where you grew up, had friends and family and felt comfortable.  Now, you probably have fewer constraints and many alternatives.  You don't need to live close to a job, you probably no longer have living parents, your children have their own families with less time for you, and you have a different set of needs and priorities.
Retirement Home Type
Your retirement home may be within a community association.  Community associations include Condominium Associations, Homeowner Associations (HOA's) or Cooperative Associations (Co-Ops).  They differ as follows:
Condominiums - Members (owners) own their unit and an undivided share in the common elements.
HOA's - Members own their homes and the association owns common property.
Co-Ops - The association owns all property (everything) and members have an ownership interest (i.e., a lease to use the unit/property).
Although condominium or apartment-style living isn't for everyone, condominiums do have several appealing advantages:
Typically located in urban areas, near the beach or in resort areas.
Provide a maintenance-free lifestyle.
Usually provide single-floor living with elevators in multi-story buildings.
Include amenities such as swimming pools, spas, tennis courts, exercise facilities, barbecue patios, picnic areas, clubhouse, food service, covered parking, concierge desk, etc.
Maintenance fees may include utilities such as cable TV, water, trash collection, security, fire protection, etc.
May provide walking access to restaurants, attractions and shopping areas.
May have great, high-level views.
Disadvantages include lack of privacy and high maintenance fees.  You could have noisy, disruptive neighbors or neighbors who smoke or barbecue on their patios.  Your condo could be located near a noisy generator, elevator, bar/restaurant, pool pump, traffic, etc.  There may also be restrictions on pets, occupancy rates, unit alterations, parking, etc.  Finally, most community associations, including condos, have leasing restrictions.
Own or Lease?
You can own your home or condominium or lease it.  Ownership has the advantages of privacy, tax deductions, equity build and freedom to make changes (furnishings, decorations, color schemes, etc.).  Whereas leasing a home reduces your financial commitment and allows more freedom to move to another home as your circumstances change.
Is a 55+ Community Right for You?
Many more seniors are seeking 55+ Communities for their retirement home.  These communities are for people over age 55 who want to remain active and enjoy associating with fellow retirees and participating in community activities in a vacation-like setting.  Most of these communities offer:
A home maintenance-free lifestyle;
Alternative accommodations -- single family homes, multi-family or condominium;
Club houses with rooms for exercising, playing cards, dining, entertainment, billiards, etc;
Recreational facilities -- golf, swimming, tennis, boccie ball, shuffleboard, softball, etc;
Various clubs for residents with specific interests; and
Activity directors.
55Places.com recently listed the 25 best value active-adult communities for retirement.  According to the article, these following communities offer the ultimate package of resort-style amenities, a vibrant lifestyle and finely-crafted homes:
Rated Best Active-Adult Communities
1. On Top of the World – Ocala, FL
2.   Sun City – Sun City, AZ
3.   Sun City Texas – Georgetown, TX
4.   Timber Pines – Spring Hill, FL
5.   Stone Creek – Ocala, FL
6.   Kings Point - Sun City Center, FL
7.   Frisco Lakes – Frisco, TX
8.   Del Webb Charleston – Summerville, SC
9.   Lake Providence – Mt. Juliet, TN
10.  Four Seasons at Beaumont – Beaumont, CA
11.  Sun City Peachtree – Griffin, GA
12.  Oak Run – Ocala, FL
13.  Hill Country Retreat – San Antonio, TX
14.  Sun City Huntley – Huntley, IL
15.  Solivita – Kissimmee, FL
16.  Southshore Falls – Apollo Beach, FL
17.  Del Webb Orlando – Davenport, FL
18.  Sun City Mesquite – Mesquite, NV
19.  Spruce Creek Country Club – Summerfield, FL
20.  Kings Ridge – Clermont, FL
21.  Rossmoor Village – Monroe Township, NJ
22.  Concordia – Monroe Township, NJ
23.  Stonecrest – Summerfield, FL
24.  Clearbrook – Monroe Township, NJ
25.  Sun City Festival – Buckeye, AZ
Determining Where to Retire
There are alternative ways of analyzing the various location, housing and environmental factors important to you in retirement and using these factors to arrive at the best choice from an almost limitless number of options.  You can begin by doing research using the Internet and various publications.  Where to Retire Magazine (www.wheretoretiremagazine.com) is an excellent source, and its "100 Best Places to Retire" publication provides valuable information.  AARP is also a valuable resource, with its "Great Places to Retire" section (www.aarp.org/home-family/livable-communities/best-places-to-live).  This section of the AARP website lists a number of 10-best places based on cost-of-living, weather, charm, sports, outdoor activities, etc.
The Cheapest Places to Retire
If you want your retirement income to provide the best lifestyle or last the longest, you may wish to select one of the cheapest places to retire. On October 4, 2019 Newsmax.com published an article on the nine cheapest places in America to retire.  This list, based on data from MarketWatch, includes (in order, starting with the cheapest):
Laredo, Texas
Memphis, Tennessee
Knoxville, Tennessee
Huntington, West Virginia
Fort Smith, Arkansas

San Antonio, Texas
Amarillo, Texas
Oklahoma City, Oklahoma
Toledo, Ohio
On the opposite end of the spectrum, San Francisco, New York, and Pearl City, Hawaii were ranked as some of the most expensive places to retire.
The Happiest States
The following happiness ratings were based on a survey of 1.3 million people across the country by the Centers for Disease Control and Prevention. It used data collected over four years (2005-2009) that included a question asking people how satisfied they are with their lives.
Economists Andrew J. Oswald of the University of Warwick in England and Stephen Wu of Hamilton College in Clinton, N.Y., compared the happiness ranking with studies that rated states on a variety of criteria ranging from availability of public land to commuting time to local taxes.
Their report in the journal Science found the happiest people tend to live in the states that do well in quality-of-life studies, which compare things like climate, crime rates, air quality and schools.  As you will see many of these states are in the southern US where outdoor living is more prevalent.
The state-by-state list (including Washington, DC), from happiest to lease happy are:
Happiest States Ranking
1. Louisiana
2. Hawaii
3. Florida
4. Tennessee
5. Arizona
6. South Carolina
7. Mississippi
8. Montana
9. Alabama
10. Maine
11. Wyoming
12. Alaska
13. North Carolina
14. South Dakota
15. Texas
16. Idaho
17. Vermont18. Arkansas
19. Georgia
20. Utah
21. Oklahoma
22. Delaware
23. Colorado
24. New Mexico
25. North Dakota
26. Minnesota
27. Virginia
28. New Hampshire
29. Wisconsin
30. Oregon
31. Iowa
32. Kansas
33. Nebraska
34. West Virginia35. Kentucky
36. Washington
37. District of Columbia
38. Missouri
39. Nevada
40. Maryland
41. Pennsylvania
42. Rhode Island
43. Ohio
44. Massachusetts
45. Illinois
46. California
47. New Jersey
48. Indiana
49. Michigan
50. Connecticut
51. New York
Kepner Tregoe Decision Analysis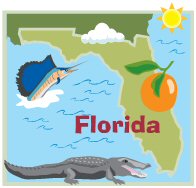 After you've done preliminary research, you'll need to narrow your selection to those areas which are most appealing.  Notice that I'm suggesting that you conduct your research first and then hone in on your requirements.  This will keep you open-minded to new possibilities that you may have initially eliminated.  One approach for narrowing your selection is to use a Kepner Tregoe decision analysis.  This approach employs a structured decision making methodology for gathering information and prioritizing and evaluating it.  It was developed by Charles Kepner and Benjamin Tregoe in the 1960s.
An important aspect of Kepner Tregoe decision making is the assessment and prioritizing of risk.  So the idea is not to find a perfect solution but rather the best possible choice, based on achieving the best outcome with minimal negative consequences.  It is a way to replace emotions with factual data, and to make decisions with less conscious and unconscious biases that draw attention away from the outcome.
Kepner Tregoe Process
There are four basic steps when decision making Kepner Tregoe style:
Situation Appraisal - is used to clarify the situation, outline concerns, determine major factors for consideration, eliminate certain options and choose a general approach and direction.
Problem Analysis - here the problem (not knowing where to live in retirement) is defined and its resolution objectives are determined and weighted.
Decision Analysis - alternatives (options) are identified and a risk analysis is done for each.
Potential Problem Analysis - the best of the alternatives is further scrutinized against potential shortfalls/problems and negative consequences and actions are proposed to minimize risk.
Following the step-by-step approach of Kepner Tregoe decision making allows for the use of critical thinking skills in considering many possible factors that may be vital in making the decision.  The table at the bottom of this page exemplifies use of the Kepner Tregoe problem identification and decision analysis methodology in determining where and how to live in retirement.
1. Situation Appraisal
The situation is that you feel that you're ready to leave your current house/location and move to a more ideal place.  Before proceeding further you'll need to outline concerns associated with your move, such as the impact on current friends and family relations and adjusting to a new and strange environment.  Also, there's the cost factors in selling and buying a new house, determining what all needs to be moved (or sold or donated) and the logistics of working with a moving company.
Once you've clarified the situation, outlined concerns and considered the complexities with a move/ relocation, you're ready to narrow your options to a subset that meets your essential ("must have") requirements.  Your initial research presented many possible solutions from which you need to select a general solution/direction.  The next step is to develop a set of "must have" requirements for your retirement home.  These can be divided into three categories: 1) Location, 2) housing and 3) community (environment).  Following is an example of "must have" requirements:
Retirement Home "Must Haves" Example
1.  Location
Warm Climate
Near the Ocean
2.  Housing
Single Story Detached House
Affordable (< $XXX,XXX)
3.  Community
Retirement Community (55+)
Each possible alternatives is  considered to be a "Go" if it meets your "must have" requirements or else it is a "No Go".  The alternatives generated by your initial research are evaluated against "must have" requirements (above example), and the "no go" ones are eliminated.
2. & 3. Problem & Decision Analysis
The remaining options (the "go" ones) are evaluated against your list of "want to have" requirements or objectives.  Note that the evaluation table below contains a sample list of many objectives, some of which you may consider as being "must haves", which would eliminate them from this table.
For this example the same three major factors used above (Location, Housing and Community) are considered in analyzing the problem and reaching resolution.  Objectives are listed under each factor and rated (1 - 10) relative to their importance to the retiree.  Then, as a part of the decision analysis, the degree to which each option satisfies the objective is rated (1-10).  Finally the two are multiplied (Importance times Satisfaction) to arrive at a Weighted Score.  Scores are then added down the columns to arrive at Total Scores.  The Option with the highest Total Score is the best fit for your situation.  This is of course just an example, and your individual objectives may differ considerably, leading to a highly individualized result.
4. Potential Problem Analysis
Once your objectives are analyzed for each identified option and a total score is calculated, it is now time to complete the final step – potential problem analysis.  Here the best of the alternatives is further scrutinized against potential problems and negative consequences and actions are proposed to minimize the risk.  Having completed the final analysis step, you're now in a position to aggressively work towards achieving the desired alternative.
Time for a Field Trip
Keep in mind that this exercise, completed from the comfort of your home, provides an initial result that must be underpinned with further more-targeted research.  This requires you to schedule a visit to the communities that are on your final selection list.  One approach is to actually rent a home in the community for several days to several weeks.  Many communities offer special rental programs for prospective buyers.  While visiting the communities be sure to participate in as many activities as possible and speak to current residents to answer questions and get their feedback and perspective.
Finally, you're ready to amend as necessary and use your Kepner Tregoe spreadsheet to make the final decision, a decision based on well thought-out requirements and factual data.
Happy house hunting!
Determining Where to Live in Retirement (Kepner Tregoe Example):
1.  Near Family and/or Friends (children, grandchildren, relatives, etc.)

2.  Geographical (northeast, south, another country, etc.)

3.  Climate (warm all year, change of seasons, etc.)

4.  Favorable State & Local Taxes (property, income, etc.)  See "Property Tax" page.

5.  Low Overall Cost of Living (food, housing, transportation, etc.)

6.  Close to Recreation (ocean, mountains, lakes, fishing streams, etc.)

7.  Close to Airports & Health Care Facilities

1.  Type of House (single family, patio home, condo, townhouse, etc.)

2.  # of Floors (e.g. single story)

3.  Price Range (e.g. $200,000 - $300,000)

4.  Amount of Maintenance Required

5.  Homeowner Association Fees (for maintenance, security, cable TV, etc.)

6.  # of Bedrooms & Baths

7.  Layout (separate living room, dining room, family room, den, breakfast nook, open floor plan, etc.)

8.  Size (e.g. 2,000 square foot)

9.  Age (new construction, fixer-upper, less than 10 years old, etc.)

10.  Construction Type (frame, CBS, brick, vinyl siding, etc.)

11.  Land & Landscape (size, condition & view)

12.  Roof (asphalt shingle, cedar shake, concrete, clay tile, etc.)

13.  Patios & Outdoor Living Area(s)

14.  Pool and/or Spa (screened in)

15.  Garage (2 car, golf cart area, etc.)

17.  Exposure (e.g. southeast in back)

1.  Type (e.g. Adult (55+) Community)

2.  Demographics (similar)

3.  Security (e.g. gated, manned 24 hours)

4.  Facilities (clubhouse, pool, exercise room, activities room, etc.)

5.  Close to Other Amenities (groceries, entertainment, recreation, restaurants, beaches, etc.)

6.  Location & Type of Lots

7.  Close to Health Care Facilities