Isn't Every Day a Vacation Day?
Is This where I Satisfy My Bucket List?
Need for Vacations

Someone who has not yet retired might ask the questions "why would I need a vacation?" or "isn't every day a vacation?"  Those who have been retired for a while know the answer.  Vacations are simply "getting away from the normal routine and doing something pleasurable that's new or different".  Even if your retirement home (or second home) is located in a "vacation area", it's important to schedule time traveling or sightseeing to an unfamiliar area.
Vacation Planning
While it works different for every retirement couple, in my home I'm the financial planner and my wife is the vacation planner.  By this I mean that I suggest, based on finances, how often we can travel and how much we have available to spend.  Then, together we do some overall planning like choosing a destination and method of travel (e.g. seeing Mediterranean countries via a cruise).  Afterwards, my wife does the research, primarily using the internet, and develops a proposed agenda with various pricing options.  Together we make the final decisions.
One thing that I would suggest is that every retiree develop a vacation goal list (or bucket list) showing every place that you want to visit or every major thing that you want to see and do while you're still in reasonably good health.  The two things that are certain in retirement are that we don't know how many years we have left and how much longer we'll remain in good health.  Therefore, so that you don't have regrets later, it's important to establish a prioritized list right away.
Vacation Budget
Every retirement budget should have certain funds set aside for vacation expenses.  For most retirees, this is where the tradeoffs come in.  You can:
Choose to sacrifice other expense items so that you have money available for vacations,
Take fewer or less expensive vacations,
Withdraw more from retirement investments thereby foregoing future income to provide for the present, or
Earn extra income for special vacations.
Regardless, vacations are important for all retirees.  They challenge the mind and senses, give you a new perspective on life, and help you plan for the future.  For example, until you travel outside the US, you have little concept of the age of civilization and the lives of the millions of people that have come and gone before you.
Types of Travel
In general, there are three major ways to "see the world":
Tour Groups – Provide all-inclusive guided tours for groups of travelers;
Cruising – Provides vacations, including room, meals and entertainment, on luxury ships that visit multiple ports; and
On Your Own – Gives you ultimate freedom to travel where, when and how you want to while enabling you to explore on your own.
1. Tour Groups
The advantages of traveling with a tour group include:
Tour Director – You receive the services of a tour director with years of experience to help you discover more sights than you could find on your own,
Savings – Due to negotiated group rates, you can save up to 40% of the price of traveling the same itinerary on your own,
Worry-free and Hassle-free Vacations – all the details are handled for you,
Easy Budgeting – Tour operators include most of your vacation costs in one price, and
Meeting New People – Because of the relatively small travel groups comprised of people with similar interests, you will have opportunities to meet people, usually from various parts of the country or world.
Some of the major tour companies include:
Destinations
Frommer's (www.frommers.com) divides the travel world into the following seven destinations:
North America
Caribbean & Atlantic
Central & South America
Europe
Asia
Australia & South Pacific
Middle East & Africa
Their top destinations (in alphabetical order) are:
Amsterdam
Bahamas
Dominican Republic
Jamaica
Las Vegas
London
Los Angeles
Maui
Miami
Montreal

New Orleans
New York City
Oahu
Paris
Puerto Rico
Rome
San Diego
San Francisco
Virgin Islands
Washington, D.C.
| | |
| --- | --- |
| Frommer's offers travel guides to each of these destinations at: | |
Today's trend in retiree vacations seems to be more geared to the exotic areas – Mediterranean cities, Caribbean islands, Hawaii, etc.  However, I believe that there're still great opportunities to visit and enjoy the "tried and true" vacation spots.  If the goal is to escape the normal routine or get a winter reprieve from the ice and snow, you can still get great deals in Florida, Arizona, California, etc.  For example, a one or two-bedroom condo at or near the beach in Florida can rent for $900 to $1,200 a week in the dead of winter.
2. Cruising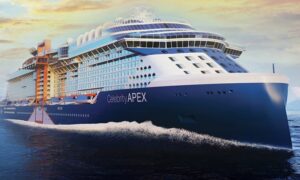 The advantages of cruising include:
Simplicity and Convenience – When you book a cruise, most of the work is done for you.  You can select a cruise based on travel times, length of the trip, ship, or destinations.  Your room, meals, entertainment and around-the-clock activities are provided.
Multiple Travel Destinations – Unlike visiting a resort, which locks you in to one location, a cruise ship stops at several or many ports depending on the length of your cruise.  Travel arrangements and sightseeing tours are made available (for purchase) through the cruise line for each port.  And you always have a meal and bed waiting for you when you return to the ship.
Discounted & Bundled Deals – Cruise lines offer specials on their popular destinations.  If you travel off-season or are flexible for last-minute bookings, you can get a cruise package at a major discount.  Cruise lines offer many optional extras including upgraded state rooms, spa packages, airfare to and from the cruise ship's port, a hotel stay at the port city prior to departure, and airport transfers.
A Diverse Experience – When you stay in a resort or visit one city, you have a limited number of available activities.  Whereas, cruise lines provide nearly limitless activities onboard the ship: entertainment, recreation, eating, shopping, learning and gambling.
Meeting New People – Thanks to the buffet-style and large table eating areas and planned group activities, you will have opportunities to meet people, usually from all over the world.
After reading the above advantages and before booking your cruise, you need to be aware of several negative factors associated with cruising:
Hidden Costs – Taking a cruise will cost you far more than the cost of airfare and booking the trip.  You will also have to shell out for many of the extras, including drinks (alcohol and soda), tourist excursions at the visited ports, premium dining restaurants, spa treatments, cruise pictures, and gifts/souvenirs.  In addition, the cruise ship "suggests" how much you should tip your room steward, waiter, wine server, etc.  They even offer you the "opportunity" to pay for all of your tips in advance when booking the cruise.  Finally, if you like to gamble, you have the opportunity to lose a considerable amount of money onboard.  You could easily spend more than the cost of booking the cruise on the things you buy throughout the trip.
Passenger Demographics – Depending on the cruise line and specific cruise, you may find yourself not fitting in.  There are cruises that cater more to families with children (e.g. Disney), singles, or retirees.  Do your research before booking to make sure that the cruise is right for you.
Rushed Port Excursions – In general, you have one day (in some cases not a full day), to visit a port and see all of the attractions.  This is usually insufficient time, causing you to just visit the tourist-type events and miss the authentic cultural experiences.  Sometimes you have choices among excursions to various neighboring cities, and due to time constraints need to pick just one to visit.
Close Quarters – Piling thousands of passengers into a single megaship has its disadvantages.  A mishap (e.g. kitchen fire) that occurs or a sickness that spreads onboard typically impacts many of the passengers and can ruin an otherwise pleasant vacation.
Sea Sickness – A huge cruise liner with its sophisticated ballast systems helps assure a smooth level ride.  However, as someone who has cruised through tropical storms and high seas, I can tell you that even the most experienced ocean traveler will have days when it's hard to keep from getting seasick.
Overall, Cruising is a Good Deal
From the onboard casino to the midnight buffet and exotic ports, cruises offer a vacation experience unlike any other.  If you do your research and book at the right time, you can get a great deal on a cruise package.  Once on board, if you stay frugal, you can save yourself even more money.  But cruising isn't for everyone.  Before you shell out your hard-earned money, make sure it's the type of vacation you'll enjoy.
Some of the major cruise lines include:
3. On Your Own
The advantages of traveling on your own include:
Ultimate Freedom/Flexibility – When you book a vacation on your own, you can tailor it to your specific needs.  Perhaps you've previously visited certain attractions within an area, but want to explore things that were missed during the last visit.  You may also want to vary your method of transportation and travel by car, motor home, private boat, etc.
Fewer Time Constraints – Your entire vacation is customized by you.  This means that you can divide your time among as few or many areas or attractions as you like.  If you find a stop that you're interested in, you can usually spend additional time.
Less Hectic – Rather than limiting your vacation to tourist attractions, you can spend time exploring areas "off of the beaten path".  You can relax at a beach, a lake, or a mountain cabin.  You also will have more opportunity to blend in with the "locals" and explore the area's culture.
More Individual Experience – You're not part of a larger group, but able to spend more personal time with your traveling companion(s).  This can be a time for bonding and building relationships.
The on your own option works best if you're planning to spend a week or two at a hotel or condominium in a vacation area and want to maximize exploring the local area.  Because you may have many benefits included with your stay (swimming pools, exercise rooms, and sometimes meals and drinks), your vacation may be less expensive.  Also, a provided refrigerator and cooking facilities may allow you to save on restaurant costs.
Conclusion
Obviously, most retires have more free time to do whatever they want to do and can afford to do.  With this free time, it's easy to stagnate and concede to the status quo.  However, it's more important than ever to remain active during these best years of your life.  Staying active frequently includes pursuing special interests including travel and vacations.
Regardless of your personal vacation preferences (place or approach), it's important to maintain a vacation wish list and make every attempt to pursue your dream vacations.  Enjoy!